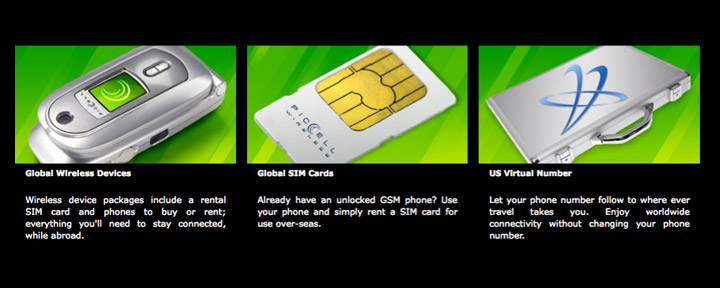 Spanish Works, Inc. mobile phone and SIM card rental
Dear Students,
PicCell Wireless is offering all Spanishworks students a discounted mobile phone and SIM card rental package.
This package includes a free cell phone option, a discounted processing fee and a local number with local service. There are no monthly or daily service or rental fees.
Incoming calls and text messages are free for you while you are in your home service country (from anywhere in the world).
Please order your phone online as soon as possible. Your phone and number will be sent to you before you leave. Shipping is discounted if you order at least 2 weeks in advance. Pre-ordering allows you to give family your phone number before you leave home and have a phone while traveling in case of emergency and upon arrival in Europe. Please be sure to review information regarding: rates, Roaming, Lost/Stolen phones, and returning the equipment etc. You are responsible for all traffic and costs incurred.
For more information or to order:
www.piccellwireless.com/spanishworks
Please e-mail dorothy@spanishworksinc.com or call 707.431.1655 /305.942.5757 for more information.
Download the Ad
Details include:
Free phone included – keep the phone for future travels
SIM card rental included
$25 discounted activation fee
Free incoming calls & texts (including from the U.S.) while you are in your home service country
Only pay for the calls you make. No daily or monthly line fees. No minimum usage required.
Your phone can be shipped to you before you leave the US
SIM card rental offered for any length of time - you choose rental period.
Monthly billing to credit card.
The service does not include Blackberry or iPhone service. Please do not use our SIM cards in your own phone to access Internet or Email.